Semaglutide -Novel Anti Obesity Medication for Weight Loss Landmark Study by NEJM
What is Semaglutide?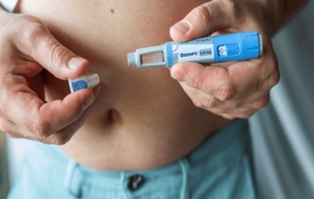 Semaglutide is a compound that is part of a larger group called GLP-1 receptor agonists. Their main function in the body is increasing insulin secretion (and thus lowering blood sugar levels), which is why it has been commonly used as an injectable medication in managing diabetes. Interestingly, in high doses, semaglutide acts on specific areas in the brain to suppress appetite. The clinical relevance of this finding is that when used in conjunction with diet and exercise, semaglutide allows patients to reliably continue a reduced-calorie diet and further enhance the weight-loss process.
In 2021 semaglutide was officially approved for use by the FDA for chronic weight management. The research on semaglutide is promising; a study published in 2022 by Nature showed that participants using semaglutide lost between 10 and 20 percent of their baseline body weight by the two-year mark. With these results, it is essential to note that participants continued to stay physically active and manage nutrition without relying entirely on semaglutide for weight loss. It must be further emphasized that not everyone should be on medication to lose body weight. To maximize the benefit of the treatment while understanding and safely navigating risks, using semaglutide for weight loss has to be under the medical supervision of a physician.

Semaglutide is quickly gaining popularity in weight loss communities, however it is essential to discuss your treatment options with a physician who is Board Certified in Obesity Medicine and has expertise in using these medications with the proper combination of lifestyle and nutrition for optimal results.
What are peptides and how are they relevant?
A peptide is a chain of amino acids, which are the building blocks of proteins. In the body, various peptides serve many different functions concerning metabolism and other systemic processes. Some benefits of peptides are: promoting muscular development, boosting bone and joint healing, improving wound healing, treating intestinal damage, and healing stomach ulcers. Maintaining good gastrointestinal health during a weight-loss program is critical. Specific peptides can mimic the main protective compound in the human stomach by forming blood vessels which is thought to improve healing. These can be especially helpful while taking a semaglutide injection. The knowledge of peptides and their use in metabolic health is a rapidly growing topic in research and the clinical setting. For further information on how we at Premier Physicians are using peptides to promote metabolic health, contact our office today.
Why would a combination of peptides and Semaglutide be beneficial?-
Many factors impact weight. Therefore, an effective weight management treatment plan requires an integrative and systemic approach to weight loss led by a physician. When starting a weight-loss journey, implementing and continuing certain lifestyle behaviors, such as physical activity and individualized nutrition planning, are imperative to utilize in combination with medications such as semaglutide. However, the cumulative effect of these essential measures can cause feelings of fatigue, weakness, and hunger. Using peptides can dramatically reduce the intensity of these typical feelings while maintaining balance and ensuring proper healing in the digestive system. Don't hesitate to contact our practice for further questions about peptides and their use in weight loss. Our trained medical staff can give more information on whether you may be a qualified candidate.
Frequently Asked Questions about Semaglutide + Peptides
How do I know if I should or should not be taking this medication?

Dr. Kota will let you know whether you are a good candidate for semaglutide, BPC-157 or the combination of the two. However, it is critical to relay:

If personal or family history of the following:

Medullary thyroid carcinoma (Thyroid cancer)
Multiple Endocrine Neoplasia Syndrome type 2

If you are currently pregnany or have plans to become pregnant while taking this medication
If you are diabetic and/or taking any medications related to lowering your blood sugar levels

Specifically, if you are prescribed insulin, the combination may increase the risk of low blood sugar (hypoglycemia) in which case dosage adjustments by your provider/prescriber may be necessary

If you have a history of pancreatitis
If you know of an allergy to certain peptides or other GLP-1 agonists such as Adlyxin®, Byetta®, Bydureon®, Mounjaro®, Ozempic®, Rybelsus®, Trulicity®, Victoza®, or Wegovy®; etc.
If you have any other allergies as there may be other inactive ingredients in the medication.

How should I use semaglutide?

If you are prescribed injectable semaglutide here at Premier Physicians, we will give you resources and instructions on how to administer the medication. You should follow exactly how the physician has instructed you to use semaglutide.
Semaglutide is given as an injectable medication

injectable semaglutide should be administered under the skin (subcutaneously) of the upper arm, stomach, or thigh.

Do not inject semaglutide in the same site for every dose.
Do not inject semaglutide into a muscle or vein.
Use injectable semaglutide once a week on the same day. It can be administered at any time of the day.

What are the side effects of semaglutide?

Common side effects include: nausea, diarrhea, vomiting, constipation, stomach pain, headache, fatigue, dizziness, bloating, gas, and heartburn)
More serious side effects include: pancreatitis, gallbladder problems, kidney problems or failure, serious allergic reactions, increased heart rate, depression
Be sure to check in with us if you feel like you are experiencing on or more of these symptoms while on the medication.
For further information on the use of Semaglutide and/or peptides for weight loss:
Read our blog post on Semaglutide: https://www.mdkota.com/blog/semaglutide-glp-1-receptor-agonist-a-novel-anti-obesity-once-weekly-injection-for-weight-loss-35635.html
Dr. Kota's explanation on Semaglutide and other GLP-1 medications (link here)
Reputable Research on Semaglutide for Weight loss:
For further information, please See Dr Kota's blog on Glp-1 Medications and Semaglutide.