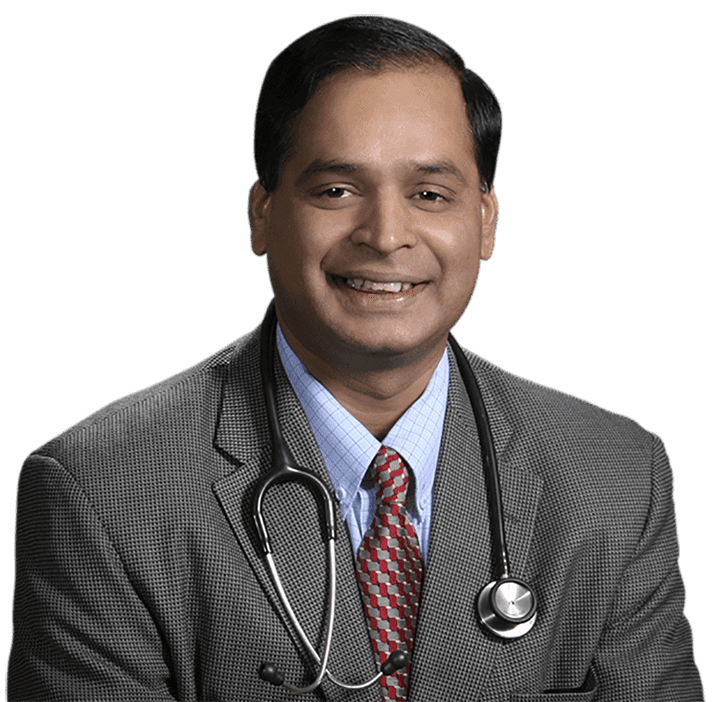 Srinivas Kota, MD, FMNM Diplomate, American Board of Obesity Medicine
Diplomate, American Board of Internal Medicine
Diplomate, American Board of Metabolic and Nutritional Medicine
Dr. Srinivas Kota, the lead medical practitioner at Premier Physicians, has spent more than 20 years serving patients in the Bolingbrook, Illinois area. Triple board certified in internal medicine, obesity medicine and metabolic and nutritional medicine, Dr Kota works closely with his patients, using a functional and integrative approach that addresses the physical, cognitive, behavioral, social and environmental influences that can affect their health. In this way, Dr. Kota is able to uncover the underlying problems behind any symptoms his clients may be experiencing, enabling them to make choices that directly contribute to a happier, healthier lifestyle.
Dr. Kota was trained in internal medicine at Montefiore Center, the University Hospital for Albert Einstein College of Medicine in New York. Additionally, he acquired pediatric training at State of New York Children's Medical Center.
Dr. Kota is fellowship trained and board certified in metabolic, nutritional, and functional medicine from the Metabolic Medicine Institute from the University of South Florida. He has obtained further specialization and training in Obesity Medicine, receiving his board certification from the American Board of Obesity Medicine. His expertise is medical weight loss, chronic metabolic ailments which are related to hormonal, metabolic, allergic, gastrointestinal and neurological conditions. His goal is to partner with his patients and minimize the use of medication while utilizing gentler, natural methods such as natraceutials and lifestyle modifications.
Currently, Dr Kota is on staff at Edwards Hospital in Naperville, Illinois and Advent Hospital in Bolingbrook Illinois.
Dr. Srinivas Kota lives with his wife and two daughters, and in his spare time he enjoys music, traveling, golf and tennis
Affiliations
Our Patients Review
I first visited Dr. Kota for help with my type 2 diabetes, and with Dr. Kota's guidance, I now have the knowledge and support to take control of my health. After being a patient of Dr. Kota's, I have learned how to control my blood sugar; I have lost weight and stopped taking medications I have ...

Dr Kota and his staff are the most amazing people I've met. Details details details are one of my favorite things about Dr Kota. His staff are like a well oiled machine, filled with competence, compassion, and caring that is seen in every office visit and phone call.

I cant say enough how much Dr.Kota has helped and taught me. The staff is great and I look forward to every visit.

I've always gotten excellent treatment from Dr. Kota, and his staff. I couldn't imagine ever going anywhere else......

Dr. Kota is a wonderful doctor, takes his time explaining everything to you, Gladys, and Erica are great, they take the time to make you feel like a person, and not a patient.


Very satisfied with Dr Kota and all the staff. Very pleasant environment.

Very satisfied and Dr Kota takes his time explain properly.

I have been a patient for over 9 years. Dr Kota has always been an excellent Dr. he continues to work hard to be an expert in his field. Appt. schedule is quick, no long waits. excellent service. Friendly staff.

Dr Kota is a great doctor! I've been with him for about 2 years now and I am very satisfied with the level of care I receive, he's very knowledgeable, patient and he truly cares for his patients. I don't see myself going anywhere else anytime soon.

I have done both the Kybella and cool sculpting and couldn't be more pleased with the results. Not only were my results amazing, but the people working there are amazing too. It's not just about the results with them, but the person as a whole. I don't just look better, I also feel better about m...
Srinivas Kota, MD, FMNM
726 South Weber Road
Bolingbrook, IL 60490

[javascript protected email address]